Free E-book: Converting The Believers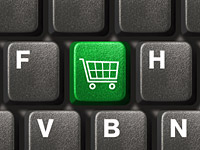 Online marketing is about creating believers. In the U.S. alone, companies spent over $21 Billion last year driving visitors to their websites and doing their best to turn doubters into believers. For all of the money spent leading believers to the virtual door, though, only a fraction of those companies spent the time and money necessary to convert those believers into buyers.
"Converting The Believers" is an e-book designed to help you turn believers into buyers and maximize your website's ROI. Learn how to use analytics, usability and testing to systematically improve online sales.
What Experts Are Saying
Dr. Meyers has managed to squeeze an astonishing amount of goodness about web analytics, usability & testing in his e-book.
Avinash Kaushik - Author, "Web Analytics: An Hour A Day"
I highly recommend it as a great starting point if you are just getting into website usability and conversion rate testing.
Will Critchlow - Co-founder, Distilled
Table of Contents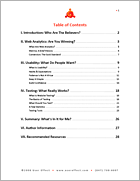 I. Introduction: Who Are The Believers?
II. Web Analytics: Are You Winning?
What Are Web Analytics?
Metrics: A Brief History
Conversion: The Gold Standard
III. Usability: What Do People Want?
What Is Usability?
Habits & Expectations
Patience Is Not A Virtue
Keep It Simple
Build Confidence
IV. Testing: What Really Works?
What Is Website Testing?
The Basics of Testing
What Should You Test?
A Few Statistics
Testing Tools
V. Summary: What's In It for Me?

---
Home | Who is Dr. Pete? | Are You A Real Doctor? | Can I Hire You? | Archive
©2022 User Effect, LLC.